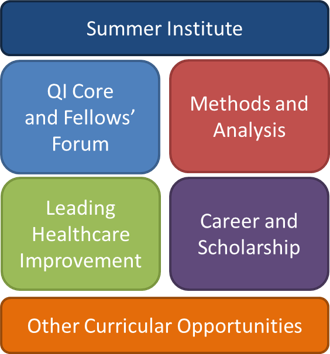 Fellows engage in quality improvement research projects and experiential learning opportunities at their sites, as well as with the VAQS national didactic curriculum. The VA Quality Scholars curriculum consists of four courses – Quality Improvement Core, Methods and Analysis, Career and Scholarship, and Leading Healthcare Improvement. Each week a course is presented through our virtual platform to all our nine sites throughout North America. VAQS fellows develop proficiencies in leadership for quality improvement to the VA and the nation.
Course Description:
This course is designed around the 6 Dimensions of Quality (safety, effectiveness, equity, efficiency, timeliness, and patient-centeredness) as outlined by the 2001 report from the Institute of Medicine. The goal of this course is to develop interprofessional leaders with a foundational knowledge base in quality improvement to improve the quality and value of the healthcare system. As part of QI Core, each site is required to present a current QI project in process during sessions called "Fellows' Forum". This provides an opportunity for the presenting fellow to gain feedback from peers and faculty from across the 9 sites. The overarching competencies for the course are:
Lead, follow, and make positive changes in health care delivery.

Describe the social context and accountability of health care, including an understanding of the local, regional, national, and global context of health care, including financing.
Sample sessions:
Introduction to Systems Thinking

Diffusion of Innovations

Human-Centered Design

Ethical Issues in QI

Safety : Patient Safety

Timely

Effective

Efficient

Equitable

Patient Centered : Patient Centered Care

Fellows forum on QI projects

Individual QI Projects

National QI Projects
Course Description: 
VAQS fellows must be proficient in leading and participating in quality improvement initiatives. This course provides the applied QI methods and analysis skills necessary to design, plan, implement, evaluate, manage, and sustain a QI project. The course is built upon the following competencies:
Apply the methods and skills associated with process improvement

Design, implement, manage, and monitor quality improvement systems

Responsibly conduct research

Demonstrate knowledge of study design

Demonstrate knowledge of statistical approaches/sources of error

Demonstrate appropriate knowledge and use of healthcare informatics
Sample Sessions:
Study Design

Informatics I : Introduction to Informatics

Informatics II

LEAN

Agile Project Management

Qualitative Methods : Focus Groups

Surveys

Failure Mode Effect Analysis

Analysis I

Analysis II

Advanced Analysis Techniques I

Advanced Analysis Techniques II

Implementation I : Innovative Designs for QI

Implementation II : Evaluation Frameworks
Course Description:
The goal of this course is to shape VA Quality Scholars into leaders within their organizations. Fellows will acquire the necessary skills and content expertise to lead quality improvement projects and become agents of change. These practice-based, interactive sessions will focus on using their current projects as hands-on learning of critical and transformative leadership skills. Fellows will learn and apply change frameworks to guide project implementation within their organization. They will understand the steps to create a climate for change, engage and enable the whole institution, and finally implement and sustain the change. The overarching competencies of this course are:
Work with individuals of other professions to maintain a climate of mutual respect and shared values

Use the knowledge of one's own role and those of other professions to improve healthcare systems

Communicate with patients, families, communities, and other health professionals in a responsive and responsible manner that supports a team approach to the improvement of healthcare systems.

Apply relationship-building values and the principles of team dynamics to perform effectively in different team roles to improve quality and safety

Formulate a personal leadership philosophy that will be effective in a post-fellowship career role
Sample Sessions:
Creating Urgency : Framing the Problem and Creating a Transformational Goal 

Forming a Power Coalition : Case for Clinician Leaders

Creating a Vision for Change 

Communicating Your Vision : Identifying Stakeholders

Empowering Others/Removing Obstacles : Conflict Management

Creating Short Term Wins : PDSA Cycles

Building on the Change : Identifying Future Directions of Your QI Project

Changes in Culture : Context of Organizational Culture
Course Description:
As competent and confident leaders, VA Quality Scholar fellowship graduates will have the requisite self-efficacy to bring an interprofessional team together and guide them towards common quality improvement goals. Through this course, fellows will also learn the skills of publishing and promoting their QI work, as well as forwarding their own career trajectory through self-branding, effective interviewing, and negotiation by developing the following competencies:
Describe the current literature about teaching improvement in health professions education

Critique Literature

Participate as a lecturer, small group leader, or teaching assistant in a course, class, or workshop about improvement

Embrace a learner-centered pedagogy in understanding the developmental stages of learners

Demonstrate scientific communication

Communicate effectively with various constituencies that are consumers of QI information (caregivers and support staff, physician and administrative leaders, trustees, media)

Develop an approach to setting and achieving personal learning goals that anticipate your emerging professional needs
Sample Sessions:
Scholarship of Teaching

Adult Learning Theory : Designing Teaching Strategies

Individual Development Plan

Writing and Publishing in QI : SQUIRE

Reviewing Manuscripts and Abstracts

Communicating Scholarly Results and Findings : Tailoring Communication of Results for the Public

Self-Branding/Marketing : Tailoring Experience for Desired Career Path

Interviewing and Negotiation

Work/Life Balance : Time Management
Advanced Measurement Special Interest Group
To facilitate an applied understanding of fundamental and advanced improvement measurement concepts, methods, and skills with a scope broader than that provided by the VAQS TWIV curriculum or by SPC courses in most MPH or MS programs. Participants may volunteer examples from their own work for discussion and consultation in the group.
Each session will have two 30 minute segments: (1) theory burst; and (2) case presentations.
Sample Sessions:
Basic and intermediate SPC review, case consultation

XR charts, case consultation

Cumulative Sum (CuSum) charts, case consultation

Exponentially Weighted Moving Average (EMWA) charts, case consultation

Standardized SPC charts, case consultation

Multivariate SPC charts case consultation

SPC with regression generated (slanted) center line, case consultation

SPC to control for seasonal (temporal) effects, case consultation

Case studies and/or case consultations
Health Systems Improvement Green Belt Certification
This course was designed for clinicians to develop the following skills through completing the coursework, a quality improvement project captured in an A3, and taking the Green Belt exam:
LEAN methodology

Agile project management

Improvement analytics

Practical change management

Reliability methods
Sample Sessions:
Uncovering Operational Barriers

Process Mapping

Identifying Barriers to Flow

Clinical Microsystems

Teamwork and Group Dynamics

Plan Do Study Act (PDSA) Rapid Cycle Change

CDI Boards

Understanding Lean

Lean Improvement Methods

Macro Perspective

Lean Leadership